IT technology has changed the way we live our lives. This is a digital era where information is everything. Today we can connect and communicate with a person sitting in the other part of the world instantly within just a click. A lot is going on today in the world of IT, and a lot more is yet to come. Here we take a look at the IT technologies that are shaping your future.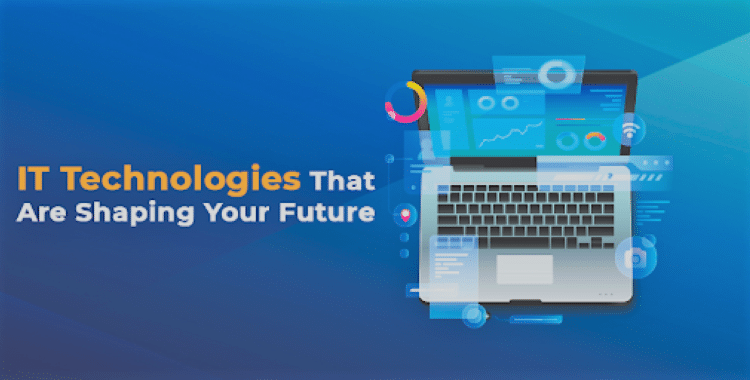 Artificial Intelligence
What comes into your mind when you hear Artificial Intelligence? We have seen in sci-fi movies about AI, wherein we will see robots equipped with superior to human-level intelligence will take over the world. Well, that's not going to happen shortly, but may or may not happen in the future. Anyway, let's get back to the article.  
AI is a technology that is trying to implant human-level intelligence into machines to enable them to make decisions based entirely on themselves without any form of human interaction. It's been in the development stage for decades now. But today it's gaining ground, thanks to technology integration, cheaper storage costs, large data availability, affordable computing costs, etc. Today AI is being used in nearly every sector, gaming, Autonomous Vehicles, social media, entertainment, education, healthcare, law, and whatnot. AI is developing at a very fast rate and has quickly taken over repetitive, redundant, and low-value tasks, to enhance efficiency. Big Data is necessary to build AI models, check out Big Data Training to be skilled in working with Big Data. 
Blockchain
Blockchain is a technology that involves distributed ledger that stores information in such a way that it's impossible to manipulate. This technology can be used as a cryptocurrency, a platform to store information, and for many more purposes. Blockchain entered the arena through Bitcoin, which was made to disrupt the baking industry. This ledger technology gives unprecedented high centralization power. Blockchain brings in three features to the table, and they are: 
Decentralization, Transparency, and Security. 
Blockchain has advanced from just being a new solution for financial transactions to many other areas. We will be seeing this technology grow to many other domains like retail, food, construction business, record keeping, etc. Blockchain technology is transforming our economy from ownership to a shared form. 
3D Printing
3D printing is a technological breakthrough in the manufacturing or construction industry. It is part of Additive manufacturing technologies. Additive manufacturing is a type of manufacturing wherein we don't trim down the unnecessary, but instead, we build only what we need, how much we need. 3D printing has caught the attention by printing hearing aids, prosthetic limbs, spacecraft engines, and all the other exciting parts that were very difficult to manufacture with the old methodologies.
This technology is quickly changing the way we build and manufacture things. The benefits of 3D technology are huge, very few wastages, high customizability, and print anything we want by designing it digitally. It has enabled us to construct something with impressive precision. Even people are building homes with this technology today. This technology has brought independence, customizability, and sustainability to one single roof. If you wish to learn ML, then check the Machine Learning Tutorial to get started. 
Virtual/Augmented Reality
Man has always been looking for ways to go beyond his reality. They always liked to play around with their imaginations. Technologies like these are helping to merge digital and real lives. A step towards that field is Augmented Reality and Virtual Reality. Already these technologies are being deployed in many domains through the technology. The combined market share of these technologies will grow to 215 billion by 2021, according to an industry survey. If an industry that has benefitted from this technological innovation will be the gaming industry. This technology has paved the way for interaction gaming, interactive education, and has also resulted in producing a slew of products like Oculus, Apple's ARKit, Google ARCore, etc. This technology holds the potential to elevate the entertainment industry to a new level, which will create new demands and new business models, etc. 
Internet of Things
Many believe that the Internet of Things (IoT) is the next big revolution in the IT space, holding the potential to change a lot of sectors. It's all about connecting any object with the internet to work smartly and on-demand. This technology will bridge the gap between the physical and digital arena of life. The IoT domain will grow at a staggering rate in the coming years, with millions of devices hitting our homes in the coming few years. These devices collect data and make our lives much easier. Now the physical objects are no more separate and discrete, rather connected that will help in making your lifestyle more energy-efficient and more in harmony. 
The future is all about connected devices. And there is no limit to the number of connections. Every device we ever use could be connected using the internet, and then analyze the data that is generated to create decisions. We could pave the way for smart buildings, offices, cars, energy grids, and whatnot.