What is DiSTI Schoolhouse™?
The DiSTI Corporation is the leading provider of virtual training solutions. DiSTI Schoolhouse™ is an ultimate virtual training solution managed by DiSTI that allows you to deliver virtual training solutions from the cloud.
DiSTI Schoolhouse™ is an application streaming service optimized for graphically intensive 3D applications. The DiSTI Corporation's division offers interactive software development tools and virtual training solutions for various industries such as automotive, aviation, military, and more.
DiSTI Schoolhouse™ offers a range of virtual training solutions, from virtual maintenance and desktop trainers to virtual reality simulators. Leveraging DiSTI's leading cloud-based virtual training solution, trainees can practice and refine their skills in a safe and controlled environment while reducing the need for cost and time-intensive physical training. 
Benefits of Cloud-based Virtual Training Solutions
Harnessing their expertise in Virtual Reality and Augmented Reality, DiSTI's cloud-based virtual training solution, DiSTI Schoolhouse™, is designed to enhance the effectiveness and efficiency of training while simultaneously cutting costs and elevating safety measures.
DiSTI Schoolhouse™ offers users access to it from anywhere with an internet connection, making it easy for employees to participate in training sessions while traveling or working remotely.
Remote training empowers organizations to train and certify their employees irrespective of location. It reduces training costs, improves overall efficacy, and captures detailed historical data for review.
DiSTI's virtual training solutions are designed to accommodate large numbers of trainees without additional hardware or software requirements. It enables businesses to scale their training programs as they grow while streamlining the process.
DiSTI Schoolhouse™ facilitates virtual cloud training solutions, eliminating the need for expensive hardware and software installations since all the training material is hosted directly on the cloud. Additionally, it is cost-effective for businesses to implement and maintain their training programs in the long run.
Cloud-based virtual training solutions, such as DiSTI Schoolhouse™, are designed to accommodate the specific needs of a business or an industry. They offer companies the ability to create training programs tailored to their particular requirements and customize them.
DiSTI Schoolhouse™ is equipped with advanced data analytics capabilities that enable businesses to track and analyze the performance and efficacy of their training programs. The advanced data analytics that DiSTI Schoolhouse™ offers helps the company to recognize its improvement areas to make better data-driven decisions.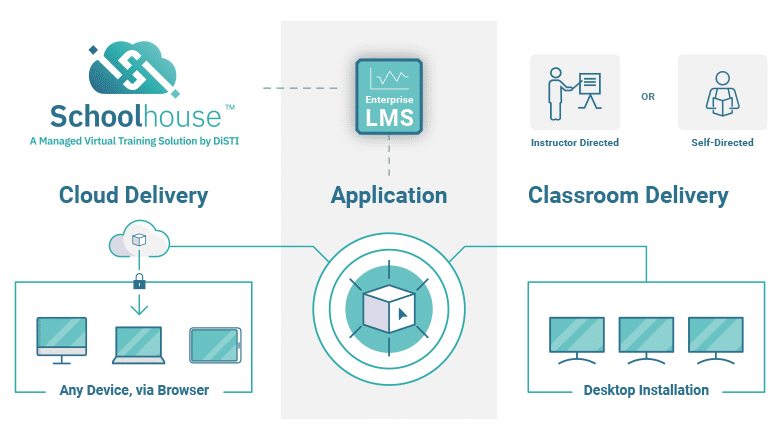 Transform Your Training with DiSTI Schoolhouse™: The Ultimate Virtual Training Solution
DiSTI Schoolhouse™ is a powerful and effective virtual training solution managed by DiSTI that offers customized solutions for all your training needs. DiSTI Schoolhouse™ harnesses its cutting-edge technology and expertly designed curriculum to provide superior training experience and equip users with their required knowledge and skills. 
Let us look at some unique advantages of DiSTI Schoolhouse™:
1. Modern Content With Traditional Training
DiSTI Schoolhouse™ simplifies the deployment of desktop, local virtual reality (VR), and mobile VR applications using your current LMS and facilitates a blended curriculum.
2. Real-time 3D Rendering
DiSTI's cloud streaming solution, DiSTI Schoolhouse™, enables customers from the aerospace, defense, automotive, industrial, and medical industries to avail interactive real-time 3D content using a standard internet browser on Mac, Linux, Chromebooks, tablets, and Windows.
3. No Software Modification or Installation
The DiSTI Corporation's virtual training solutions don't require locally installed applications as this approach contains content already rendered in the cloud. It reduces the need for the local computer to include high-end graphics rendering hardware.
4. Administer Live Classes in The Cloud
DiSTI Schoolhouse™ offers a virtual classroom that allows instructors to create classes of different sizes and assign content. Additionally, it enables instructors to facilitate these classes with live voice chat, text, screen sharing, video capturing, and optional webcam capturing facilities.
5. Freedom and Scalability
DiSTI offers LMS support to DiSTI Schoolhouse™ users, allowing organizations to host any training content while using the LMS of their choice, deploying it, and scaling it quickly.
6. Insights
Leveraging the powerhouse of virtual training solutions – DiSTI Schoolhouse™ allows clients to experience reduced training delivery time while improving their student engagement and knowledge retention rates.
7. Versatility
DiSTI Schoolhouse™ can be accessed from anywhere and any computer with a broadband internet connection and a modern (HTML 5 compliant) web browser running Google Chrome, Mozilla Firefox, and Microsoft Edge on desktop devices, including Windows, Mac, Chromebooks, and Linux PCs.
DiSTI Schoolhouse™ in Action
The DiSTI Corporation provides 3D virtual training solutions and develops Virtual Maintenance Training (VMT) for various clients across the globe. DiSTI understands the current problem many manufacturers face in keeping their technicians proficient and up-to-date with the latest automotive technology.
Team DiSTI harnesses the power of virtual reality training tools to provide opportunities for learning new skills and improving maintenance and diagnostic processes without needing a physical model.
A recent addition to DiSTI's 25-year legacy of training solutions is DiSTI Schoolhouse™, a complete virtual classroom management system that allows instructors to train students in remote environments.
Using DiSTI's Schoolhouse, a managed virtual training solution, technicians, dealer technicians, and other partners anywhere in the world can now benefit from this cutting-edge training methodology and receive certifications.
Previous studies have shown that training through DiSTI Schoolhouse™ reduced a traditional 3-day instructor-led technical certification course to 9 hours, improving student engagement and knowledge retention rates.
To learn more about The DiSTI Corporation's virtual training development and solutions, please get in touch with [email protected]