MYSQL is a commonly-used database technology to hold mission-critical data in businesses and organizations. Although MYSQL is dependable, computers and IT systems have a propensity to malfunction, and problems like hardware breakdown, data corruption, accidental deletion, and malware can destroy databases.
Aside from those concerns, users must ensure that their MYSQL server does not fail or crash for any reason to avoid data corruption. However, it is impossible to ensure that a database will never become corrupt. Using a robust MYSQL database recovery program like Stellar Repair for MySQL, nevertheless, it is feasible to fix and restore corrupt database files, stored records, primary keys, tables, etc.
But first, let's look at why these files are removed in the first place before we discover how to repair corrupt MYSQL database.
What is the Issue?
Before you can repair a corrupt database, you must first figure out what it's for. Numerous connections, unavailable tablespaces, data and structural corruption, lack of accountability of INNODB or MyISAM tables, and an absence of adequate memory are all frequent MYSQL database issues.
Solution: Recovery Approaches
The essential information to use Stellar Repair for MYSQL to recover MYSQL databases that have been deleted or get corrupt are listed below.
Basic requirements:
To get the most out of the Stellar Repair for MySQL Software, it is necessary to consider the following points:
Ensure that MYSQL is installed on your PC first. It is impossible to repair a database not installed on a computer.
Review the database to ensure that the necessary commands are entered appropriately.
Next, make sure the drive you're using has enough RAM.
Finally, ensure that the database is not connected to several servers.
Step 1: Verify system compliance, including the operating system, RAM, and hard disk space. Then, carefully download and install Stellar Repair for the MYSQL program. The download and installation procedures are straightforward.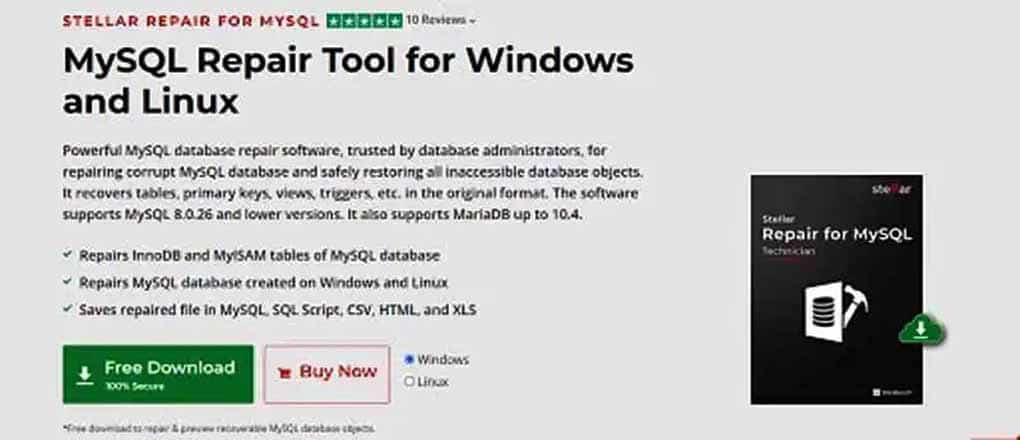 Step 2: Become acquainted with the User Interface. Learn how to utilize the software and access all of its distinctive features. This technique is simple since the software features an easy-to-use interface.
Step 3: Upgrade and configure the program. After completing the purchase of the software, an activation key is sent to the purchaser via email.
Step 4: Now you can restore corrupted MYSQL databases by choosing and fixing the affected database. Open the file menu and choose Select Data Folder. Then, click Browse to find the database you wish to restore.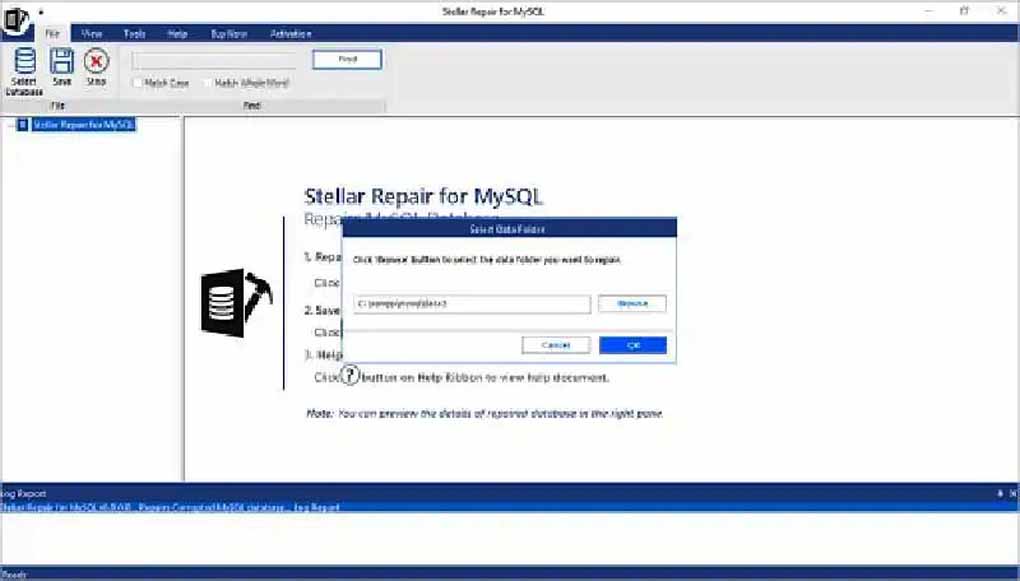 Step 5: After making your selection, click Repair to begin the restoration procedure.
Step 6: After finishing the repair procedure, a "repair complete" dialogue box confirms that the database has recovered adequately. To complete the process, click OK.
Step 7: A preview of the corrected databases is then provided. It is typically in the form of a tree, with the right pane displaying the information of the specified database.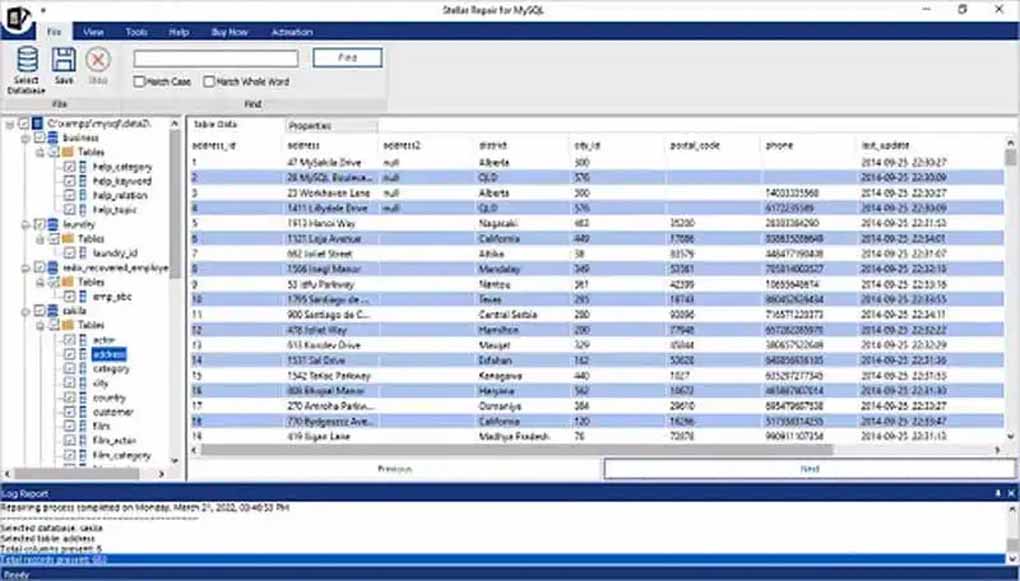 Step 8: After confirming the integrity of the data, click Save on the File menu to save the entire restored MYSQL database.
Step 9: In the dialogue box, select Save As beneath MYSQL and provide the necessary server information. Hit the Save button.
Step 10: After making your choices, click the Save from file ribbon. Then save the database in whatever format you want.
Additional Benefits of Stellar Repair for MYSQL Software
Stellar Software has been created to resolve MYSQL database problems such as corrupt files, accidentally deleted records, etc. Its utility isn't restricted to MYSQL database repairs on Windows. Any MYSQL database generated on Linux can be restored with it, too.
The principal purpose of the software is to recover data from a corrupted or rogue MYSQL database.
Since it recoups elements such as triggers, tables, keys, and other subjects in their standardized structure, the Software is entirely trustworthy.
Without destroying, amending, editing, or altering the accurate data, it completely revamps corrupt databases.
The Software's download and installation are straightforward, and the process takes only a few moments to complete.
Utilizing the collective repair feature saves time and eliminates the need to go through the lengthy and complex manual processes to repair corrupt MYSQL database.
Bottom Line
Following the ten procedures outlined above was all it took to restore a damaged database. However, this is simply one of the benefits of using Stellar Repair for MYSQL. When you buy the product once, you get several licenses, allowing you to use it on Linux and Windows machines. The program can restore tables from both INNODB and MYISAM databases and save them in various formats.